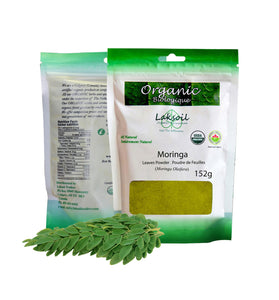 Our ORGANIC Moringa leaves powder is produced under the inspection of The Netherlands' Control Union, in 100% organic forest gardens by small-hold farmer communities.

Moringa leaves powder is one of the best ways to enhance the nutritional value of your meal or drink. Our Moringa leaf powder is dried and powdered under these strict conditions at low temperatures.
The best way to use:
Half a teaspoon of Moringa Leaves Powder into Mug of  Yogurt or Smoothy with Bee Honey.  Note: Mixed properly by the blender is recommended  
Recommendation: Half a teaspoon to one teaspoon is recommended for a healthy adult. If you have any health condition, please consult your doctor before you use it.