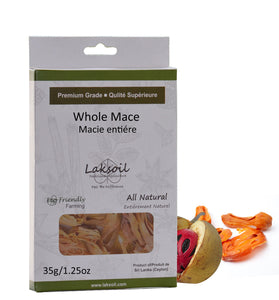 Mace (Myristica fragrans of the family Myristicaceae) is the lacy outer layer encircling a whole nutmeg seed. Nutmeg,and have a warm, earthy, aromatic flavor. Mace is slightly stronger and sweeter than nutmeg and works particularly well in custard-based desserts.
Freshly-ground mace will add value to cinnamon-brown sugar, carrot cake batter, quickbread dough, or pie filling, fettuccine alfredo, and an Old Fashioned cocktail.
Our Mace comes directly from either grown on our own plantation or in forest gardens by small-hold farmer communities WITHOUT Agrochemicals in an Eco-friendly manner to your table, so they are fresh, affordable, and of the highest quality.
Mace
originated from Sri Lanka (Ceylon) and is known for its high content of volatile oil, so they have a unique, aroma, and flavor.
Also, our selected grade
Mace
added outstanding quality to the taste.